Current Training Programmes
Symposium: Online Learning and Virtual Exchange- The Future is Now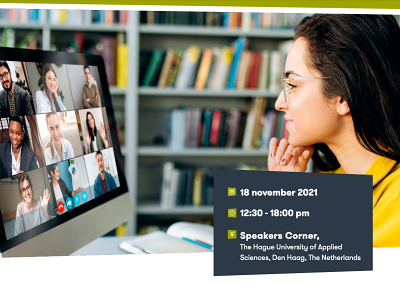 18 november 2021, 13:00 - 17:00
Online
Hosted by The Hague University of Applied Sciences, Den Haag, The Netherlands
This is a half-day symposium designed to share best practices and explore issues around online teaching and virtual exchanges. What further lessons have been learned during COVID times? How can we improve our online delivery to make it both engaging and rigorous for students? What new skill sets do course providers need to employ? How do we keep up with the seemingly never ending pace of technological change?
---
We are launching a joint COIL Academy - a new joint online training programme of 3 Czech universities: IEI at Palacký University Olomouc, Ostrava University, and the University of Hradec Králové together with the Dutch The Hague University of Applied Sciences to support collaborative online teaching and learning (COIL).
When: Always Tuesdays at 16:00 - 17:30 on Oct 12th, Oct 26th, Nov 9th, Nov 23rd, Dec 7th, and Dec 14th
What: 6 virtual sessions (in English) and a helpdesk (in Czech) to help you design and deliver COIL courses with your international partners
Who: for academics from UP, OU, and UHK
Collaborative Online International Learning (COIL) is the co-teaching of two or more teachers from universities in different countries who jointly deliver their courses. They provide the students with opportunities to gain international knowledge and to learn in an international classroom without the necessity of travel.
Lead Trainers: Dr. Reinout Klamer and Dr. Jos Beelen, from The Hague University of Applied Sciences, are experts in internationalisation and have long-term experience in COIL practice.
Who Should Participate?
The training is designed for academics from Palacký University, Ostrava University and the University of Hradec Králové to help them design and deliver quality COIL courses with their current or prospective international partners. We encourage academics to attend the training in small groups or tandems with their colleagues from the same discipline/department/faculty so they may help each other in the process of building up new COIL courses.
We also encourage educational specialists from Pedagogical Centres, team leaders, and departmental heads as well as IRO staff to join the academics in the training and learn about this specific internationalization of curriculum process and support COIL from their positions.
What is the Cost?
FREE OF CHARGE for UP, UHK, OU academics (who are expected to actively participate in all sessions).
What Will You Learn?
Six virtual (90 min) sessions are tailor-made for the Czech university context and will guide you through the process of designing a course involving COIL practice. During our interactive workshops, we will work in mixed teams and have both individual, team, plenary assignments, and discussions.
The training will be followed by a "HelpDesk" for academics to support them after the training in practical development. The Helpdesk will be provided by IEI experts in collaboration with THUAS trainers.
The course will give participants a Certificate from The Hague University of Applied Sciences (Research Group Global Learning) based on participation and completion of tasks for each session.
The training is organized thanks to long-term collaboration of IEI team and THUAS internationalization team and the great support of Czech ViceRectors: Jiri Stavovcik (UP), Renáta Tomášková (OU) and Leona Stašová (UHK).
For more on COIL: Watch Here
For more information contact: eva.janebova@upol.cz
---
Strategic Leadership in Internationalisation Symposium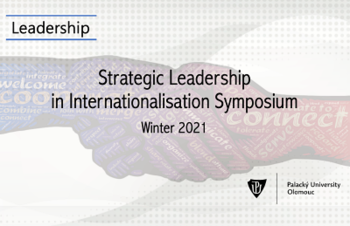 When: January 27­­­–28, 2021
What: Strategic Leadership in Internationalisation in the Czech Republic
For: Leadership
Who: 14 Speakers and over 80+ participating HEI leadership from across the Czech Republic
---
Creating an International Campus
When: Spring 2021
Registration is CLOSED
What: Our goal is to learn techniques to enhance intercultural competences and broaden Internationalisation at Home activities by knowing how to create more internationally friendly institutional environments.
For: IRO
Who: participants - individual and teams of International Officers from 8 universities from across the Czech Republic
---
SPRING 2021: Teaching in an International Classroom
Registration closed.
We are delighted that 26 instructors from 12 universities from across the Czech Republic have joined us in Teaching in an International Classroom training in Spring 2021.
The training consisted of two one-day online workshops. These sessions were designed for academic instructors to exchange tips and to broaden the scope of their pedagogical competencies in internationally diverse classrooms and teaching more inclusively. After its completion the participants commented:
The content of the course has been an inspiring combination of cultural awareness, practical training and innovative pedagogical methods of teaching and students´ performance evaluation. I also appreciate the interactivity of the whole course and the attempt to spread the idea of building up an open community of active professionals, who prepare graduates for future careers in the global labour market. (Věra Filipová, JU)
We are grateful to all participants for sharing experience and great ideas and inspiration. We are proud of all our academics' dedication to learning and sharing their work as INTERNATIONAL EDUCATORS, we hope that the mutually shared experience will help them be successful in their international classrooms and to overcome barriers to foster international education!